Cancer of the oral cavity is one of the most common malignancies, especially in developing countries, but also in the developed world. Squamous cell carcinoma (SCC) is the most common histology, and the main etiological factors are tobacco and alcohol use [1].
A decade ago, Michael C. Haffner et al. [2] published a paper describing the linkage between high expression of prostate-specific membrane antigen (PSMA) in the tumor-associated neovasculature and a worse prognosis in squamous cell carcinoma of the oral cavity. High endothelial PSMA expression was associated with greatly reduced survival (18.2 months vs 77.3 months; P=0.0001) and maintained prognostic significance after adjusting for grade and stage in multivariate analysis (hazard ratio=2.19, P=0.007).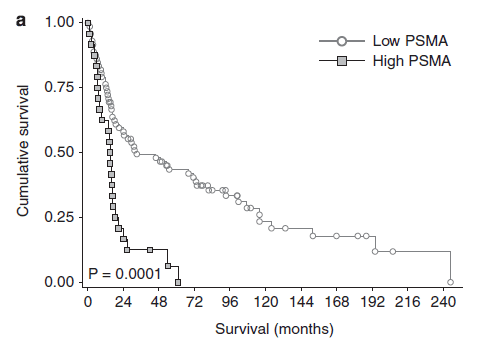 Kaplan–Meier survival curves showing cumulative overall survival in patients with low (staining score = 0 and 1) and high endothelial prostate-specific membrane antigen (PSMA) staining (staining score=2). [2].
In the discussion part of the paper the authors wrote: "Given the strong association of PSMA expression with survival it remains to be shown if a PSMA-specific targeting approach would show a therapeutic benefit in a subset of patients with oral squamous cell carcinoma."
Now that the vision trial [3] has proven the beneficial effects of 177Lu-PSMA radioligand therapy (RLT) in metastatic castration resistant prostate cancer (mCRPC) it might be advisable to assess this treatment in the subset of OSCC patients with high expression of PSMA.
In addition, it was shown recently in the INVERT-Trial [4] that complete remission is achievable in 41% of patients with OSCC using neoadjuvant chemoradiotherapy prior to surgery.
If so, why shouldn't neoadjuvant chemoradiotherapy or neoadjuvant RLT with 177Lu-PSMA be used selectively in those patients with high expression of PSMA who a priori have a worse prognosis?
Ultimately, future patient selection for neoadjuvant therapy and organ preservation could be based on PSMA as a biomarker. By doing so, chances are that treatment with 177Lu-PSMA may improve the survival rate, especially in this subset of patients with tumors that have high expression of PSMA.
 References:
Montero P & Patel S. CANCER OF THE ORAL CAVITY. Surg Oncol Clin N Am. 2015 July; 24(3): 491–508. doi:10.1016/j.soc.2015.03.006
Haffner M, et al. High expression of prostate-specific membrane antigen in the tumor-associated neovasculature is associated with worse prognosis in squamous cell carcinoma of the oral cavity. Modern Pathology (2012) 25, 1079–1085.
Sartor O, DeBono J, Chi KN, Fizazi K, Herrmann K, Rahbar K, Tagawa ST, Nordquist LT, Vaishampayan N, El-Haddad G, et al. 2021. Lutetium-177–PSMA-617 for Metastatic Castration-Resistant Prostate Cancer. New Engl J Med. 385(12):1091–1103. DOI:10.1056/nejmoa2107322
Von der Grün J, Winkelmann R, Burck I, Martin D, Rödel F, Wild PJ, Bankov K, Weigert A, Kur I-M, Brandts C, Filmann N, Issing C, Thönissen P, Tanneberger AM, Rödel C, Ghanaati S and Balermpas P (2022) Neoadjuvant Chemoradiotherapy for Oral Cavity Cancer: Predictive Factors for Response and Interim Analysis of the Prospective INVERT-Trial. Front. 12:817692. doi: 10.3389/fonc.2022.817692